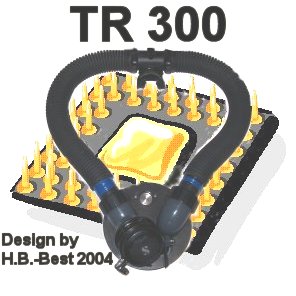 pPO2 Monitor TR300
WARNING: rebreather diving is different. Eine Nutzung des Gerätes oder Teile davon, erfolgt auf eigene Gefahr, es wird keinerlei Haftung aus daraus entstehenden Schäden übernommen ! Any use of the equipment or parts thereof, is at your own risk, it is assumed liability for any resulting damages!
Motivation:
For monitoring the oxygen concentration of the dive WHILE Monitor is a PPO 2 is essential.  In the SCR, he tells the diver that the flow was for the current Anstregung chosen sufficiently large.
In addition, he is just the switching of the mixtures to control whether the circuit was rinsed sufficiently and accordingly also the right gas is turned on!.
| | |
| --- | --- |
| The oxygen monitor. Housing and electronics were by clicking here adopted. | |
| The housing is made of 5mm Plexiglasrohr.Die stopper turned from Delrin.The sensor is inserted, the connector is pin-compatible to the VR3! | |
Note:
These remarks are necessary to prevent the usual word in diving circles battles.
No one should rebuild it or try it even
Such diving equipment can be anything but dive
Who but it appears, will surely die immediately