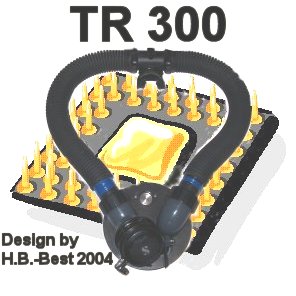 Gasswitchblock TR300 mono Gas
WARNUNG: Rebreathertauchen ist anders. Eine Nutzung des Gerätes oder Teile davon, erfolgt auf eigene Gefahr, es wird keinerlei Haftung aus daraus entstehenden Schäden übernommen !
Motivation:
Für Anwendungen des TR300 mit einem Gasflaschenvorrat gibt es nun den Gasswitchblock für ein Gas.
Der Gasswitchblock.

Zusehen ist Nadelventil im Kunstoffblock integriert, Abgang zum Bypass, Anschluss vom Mainmix. Das zugeführte Gas lässt sich über das Kugelventil zu- und abschalten.

Die Gaszuführung erfolgt mit UNF 7/16 (Anschlüsse von 2.Stufe Atemregler), der Abgang ist UNF 3/8.


Nochmal von einer anderen Ansicht.

Alternativ zu einem festem Switchblock besteht noch die Möglichkeit der Gasumschaltung durch Steckkupplungen. Dabei wird ein Schlauch (Kupplung) mit der Dosiereinheit verbunden (z.B. beim Dolphin) und die verschiedenen Gase über Stecker angeschlossen (ähnlich dem Inflatoranschluß) wichtig hierbei ist eine gute Schlauchverlegung, damit der richtige Schlauch zur passenden Zeit auch gefunden wird.
Der TR300 hat keine Dosiereinheit, sondern einen Bypass und einen separaten Zugang für den Flow (Nadelventil). Daher würde hier eine Steckkupplungsvariante zumindest einen Gasblock benötigen (wo Bypass und Nadelventil zusammengeführt sind).
Anmerkung:
Diese Anmerkungen sind erforderlich, um den in Taucherkreisen üblichen Wortschlachten vorzubeugen.
Niemand sollte dies nachbauen, oder es auch nur versuchen
Mit solchen Tauchgeräten kann man alles, nur nicht tauchen
Wer doch damit taucht, wird sicher sofort sterben
WARNING: rebreather diving is different.Any use of the equipment or parts thereof, is at your own risk, it is assumed liability for any resulting damages!
Motivation:
For applications of the TR300 with a gas bottle storage, there is now the gas switch block for a gas.
The gas switch block.

Watching needle valve is integrated in Teflon, outlet to the bypass, connecting the main mix. The gas supplied via the ball valve can be switched on and off.The gas is supplied with UNF 7 / 16 (connections of 2nd stage regulator), the outlet is UNF 3 / 8.

Again, from another view.
Alternatively, switch to a fixed block is still the possibility of switching from gas couplings. Here, a hose (coupling) connected to the metering unit connected (eg the dolphin) and the various gases via connector (similar to the inflator) is important here is a good piping, so that the correct tube is found at the right time too.
The TR300 has no metering, but a bypass and a separate entrance for the flow (needle valve). In consequence, a plug-in coupling option, would at least need a gas block (where bypass and needle valve are combined).
Note:
These remarks are necessary to prevent the usual word in diving circles battles.
No one should rebuild it or try it even
Such diving equipment can be anything but dive
Who but it appears, will surely die immediately