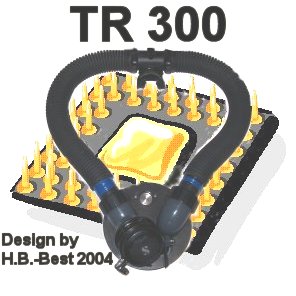 Gasswitchblock TR300 single Gas
WARNING: rebreather diving is different.Any use of the equipment or parts thereof, is at your own risk, it is assumed liability for any resulting damages!
Motivation:
For applications of the TR300 with a gas bottle storage, there is now the gas switch block for a gas.
The gas switch block.

Watching needle valve is integrated in Teflon, outlet to the bypass, connecting the main mix. The gas supplied via the ball valve can be switched on and off.The gas is supplied with UNF 7 / 16 (connections of 2nd stage regulator), the outlet is UNF 3 / 8.

Again, from another view.
Alternatively, switch to a fixed block is still the possibility of switching from gas couplings. Here, a hose (coupling) connected to the metering unit connected (eg the dolphin) and the various gases via connector (similar to the inflator) is important here is a good piping, so that the correct tube is found at the right time too.
The TR300 has no metering, but a bypass and a separate entrance for the flow (needle valve). In consequence, a plug-in coupling option, would at least need a gas block (where bypass and needle valve are combined).
Note:
These remarks are necessary to prevent the usual word in diving circles battles.
No one should rebuild it or try it even
Such diving equipment can be anything but dive
Who but it appears, will surely die immediately